Today, retail is one of the most swiftly shifting sectors, and yet some retailers still manage to somehow stay oblivious to the emerging trends. In a recent survey conducted among 300 retailers' representatives in the U.S. and U.K., as many as 97% stated that IT is a strategic business asset. These priorities match across surveys and research because there is no way around modernising for any industry that is as closely tied to customers as retail is.
And yet, while top retailers are relying more and more on mobile payments, so many more are still comfortable with just good old cash or a card. Those same ones who, unless woken up in time, will likely be suffering significant losses in sales by 2018, because in rapidly-developing sectors, a lazy attitude toward innovation just won't do, not anymore. According to Business Insider, by 2020, mobile payments should account for as much as $503 billion in sales. Another lovely prediction from them: sales are going to become highly competitive; which means, those too slow to adapt might be outrun and driven to the brink of extinction by the fittest (read: the most innovative). If you don't want to take our word for it, here's what PayPal CEO Dan Schulman thinks about mobile payments:
"Mobile is going to drive the future of payments. You're going to see a lot more volume driven by retailers rethinking their approach… and using mobile to compete with the likes of Amazon."
And yet mobile is just one huge aspect of an even bigger trend of retail payment systems transformations.
Why mobile payments are not a trend to disregard
Consumer behaviour follows the evolution of technology, and what was a bonus feature yesterday, quickly becomes standard expectations in the eyes of the consumer. According to Zynstra's research, while the most in-demand new technology for retailers is mobile payment (65%), self-checkout is not far behind, with 49% of the surveyed considering it a priority for retail modernisations. In line with this trend, recent surveys show that more than half of consumers prefer unattended vending systems that accept both cash and cards to cash-only ones, and for low-cost items, almost one half prefers using their cards, unless there's an additional fee. The reason is that customers opt for simpler and more convenient ways of making purchases, and it looks like, for a growing number of customers, cards are the simplest way to go.
If you're in retail, this must come as no surprise: to compete with rivals offering the same services or products, retailers need to make theirs available more conveniently, including more user-friendly payment methods.
So, one way to meet customer expectations is implementing cashless payments through unattended terminals. Ignoring the shift towards cashless options may cost a retailer a lot of money in the nearest future, as cashless payments are inexorably taking over in one retail segment after another.
Mobile payments, in turn, come in different forms. For many, it seems, an app is a more convenient choice, and coincidentally, removing cash-only machines can also save the retailer money. Some of the industries' major players are already working on high-tech solutions for mobile shopping: integrating cutting-edge technologies such as fingerprint authentication for payments making shopping from mobile devices so much quicker and easier for the customer. And the customer tends to choose the fastest and smoothest shopping options; indeed, why would anyone want to spend more time on a purchase than they have to?
Retailers are starting to indulge. According to Boston Retail Partners' research, Apple's contactless payment solution, Apple Pay, is accepted by over 36% percent of all sellers in the U.S. And if 36% seems like a reassuringly small number, think about it this way: it's up by 20% (!) since last year, which is an overwhelming growth rate. Now, 22% of the surveyed retailers plan to accept Apple Pay within the next year, and another 11% aim to do so within the next one to three years. If these plans come to fruition, Apple Pay might be implemented by 58% of the sellers next year, and within three years, we might be looking at around a 70% acceptance rate for Apple Pay. Forward-thinking companies like Visa and Samsung are already collaborating on similar solutions, so add Samsung Pay's possible 30% acceptance (by 2018).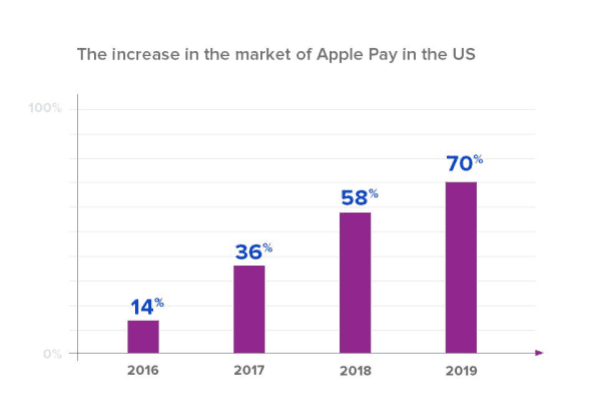 Still doubting whether you need to embrace the change?
Generally, involving third-party solutions in one's own retail modernisations seems to be a thing, even for major players like Samsung, Apple, AT&T, Aeropostale etc. Not only does going mobile and collaborating raise a retailer's chances in attracting local customers, but as InComm and WeChat Pay's partnership shows, global payment methods are more convenient for travelers. Working with that audience, in turn, brings additional value for retailers, and can potentially influence other industries in the country. For example, it can increase the tourism rate by making purchases more readily available for incoming visitors. For the retailer that would mean an increase in the number of customers. On top of that, integrated point-of-sale systems and mobile shopping solutions allow retailers to utilise many marketing and sales opportunities: offering prepaid products, paying bills, real-time discounts on membership cards, digital gifting, enhanced loyalty programs, to name just a few.
With in-store purchases made through mobile devices passing the 4-billion-dollar mark, businesses should start thinking of ways to embrace the POS Mobile Payments. According to Forrester Research, already as many as 56% of users are willing to use their mobile devices in the payment process.
56% of consumers are willing to use their mobile device to pay for products they are shopping for.
The convenience of in-store mobile payments for customers lies in how similar most of them are for the buyer: you enter your card's account information to the phone application of choice; in the store, you then launch the app, let the cashier scan it or select the business from the in-app list and get the payment done in just a couple taps. From the vendor's perspective, most systems work through Near Field Communication (NFC) technology. Which means a retailer needs a POS system that supports the NFC chip, but other than that, there's not much difference from if the customer swiped their card.
Another benefit for both parties is safety: no swinging your cards around, and most apps protect transactions through creating unique bar codes with single-use security codes, immune to reuse by hackers.
How we made mobile payments work for one of our customers
If you're looking for a more sophisticated tool for your sales upgrade, custom-made software for mobile payments might be a more efficient solution. To understand the benefits of such an option, let's review one of our case studies: Mobile Solution for Remote Order Processes in Retail.
A customer who specialises in mobile, desktop and web ordering applications for wholesale distributors and convenience store operations came to us for the development and maintenance of mobile ordering and price book management systems.
We developed a whole system of key mobile enterprise solutions for the customer, including a Remote Ordering solution, a Price Management system and a Mobile Point-of-Sale system for inventory tracking.  Followed by rigorous quality assurance, continuous enhancements and maintenance, the development included providing capabilities for shift data retrieval and integration with QuickBooks accounting system, as well as overall comprehensive price book management protocols.
With the facilitated ordering process, the customer started handling orders at an increased rate and order-related expenses were reduced through the system's ongoing optimisation and enhancement. While the solution enables access to real-time data at the point of sales, the customer experience also became significantly improved, driving the productivity of operational processes.
An added mobile POS allows to set up a customer's inventory and track sales, process payments from the wireless all-in-one device and manage pricing online. And of course, the system works across major mobile platforms, including iOS and Android.
So, if you're looking for a sophisticated tool to drive your sales upgrade, custom software is what can make a real difference for your business. Tell us your needs, and let's discuss the solution that will serve your organisation most efficiently.