Marketers have traditionally had access to deep reservoirs of data, but classic marketing analytics were limited in ability and scope. Now, marketers have access to game-changing conclusions thanks to AI-derived analytics, including
machine learning solutions
. So what are the most winning use cases for machine learning in marketing, and what essential questions can marketers ask and answer with data analytics?
Analytics brings marketers closer to their customers
Data analytics tools have changed vastly in the past few years, becoming more accessible for everyday business use. As a result, marketers can now apply powerful data science applications to the customer data they have always held.
It brings marketing teams far closer to their audience, highlighting characteristics and trends which were previously hidden from view. Today's data science methods allow marketing teams to more comprehensively collect and more carefully structure data, scooping up inputs from every step of the customer experience, even at the edge – thanks to the widespread use of IoT devices.
Real-time analytics can help marketers keep track of customer behaviour and forecast future trends with high levels of accuracy thanks to AI-enabled data science applied to large marketing data sets. But which questions can marketing teams answer thanks to advanced data analytics?

Top use cases for machine learning in marketing
Advanced data analytics has significantly broadened the questions that marketing teams can ask, and answer. The use cases to drive growth, profitability and customer satisfaction are profound:
Understand product demand and grow sales. Marketers can use advanced data analytics to get a better grip on product demand levels, including the product attributes that are most likely to boost product sales.
Determine product matches. Machine learning in marketing can help determine which products are most likely to be purchased together, enabling timely recommendations while simultaneously offering suggestions based on previous purchases.
Price vs consumer behaviour. The price a customer is willing to pay varies: data science can help keep marketers on top of how, why, and where customers are sensitive to price. Data science will indicate which conditions affect customer's responses to prices, which customers are likely to pounce on offers and how to target loyalty programmes.
Find similar customers to target. By understanding why existing customers are attracted to a product or service marketers can better target the consumers or companies who are similar in profile to their existing customer base.
Of course, it's not just about adopting smart data science solutions and machine learning in marketing. Today's data and technology trends also enable marketers to rapidly respond to novel insights thanks to easy-to-use dashboard-driven analytics, hosted on interconnected SaaS platforms.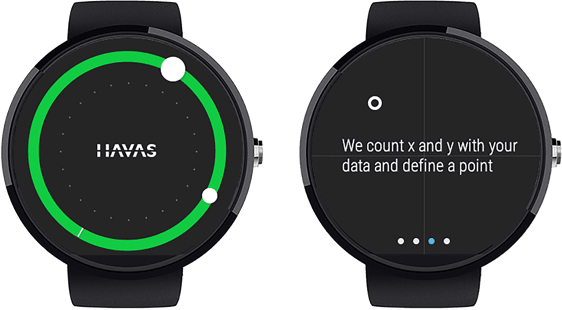 47 Smartwatches Powered by Data Science to Augment Event Experience
View Case Study
Case study in point: Havas smartwatch app
In participating in one of the world's biggest ad industry events, AdForum Worldwide Summit, ad agency Havas wanted to offer event participants a unique, data-driven experience. The goal was to highlight the power of customer data.
The Havas smartwatch app delivered a unique watch face for each attendee that used data science to determine the most appropriate contacts to show depending on the user's personal and professional data. Participants actively shared the experience on social media, showcasing the use of data analytics and wearables and associating Havas with memorable event experience.
Starting with data analytics and machine learning in marketing
Getting data science for marketing right requires a step by step approach. Marketers should assess what data is accessible to them and expand on these data sets where possible. Next, marketing-friendly data science applications should be sought out and deployed, with marketing leaders engaging their teams in the analyses and practical implementation of data-driven facts.
Find out how advanced data science can deliver more for your marketing team, and your business. Get in touch with us!

Explore our data strategy services