In business, many decisions come down to the question of associated costs. Software development is no exception. Finding a balance between a quality finished product and cost-effectiveness isn't always easy. Still, with the right strategy and a solid understanding of the variables at play, you can make an informed decision that delivers the best of both worlds.
In this article, we'll show you how to price a software product, including different pricing strategies, key cost factors, potential risks of cost-cutting, and budgeting mistakes to avoid.
By the end, you'll gain valuable insights to make those all-important financial decisions about your upcoming custom application development project.
And if you're still unsure, check out our software cost calculator and get an instant estimation of your software project's budget.
Get an instant cost estimation for your software project
Read more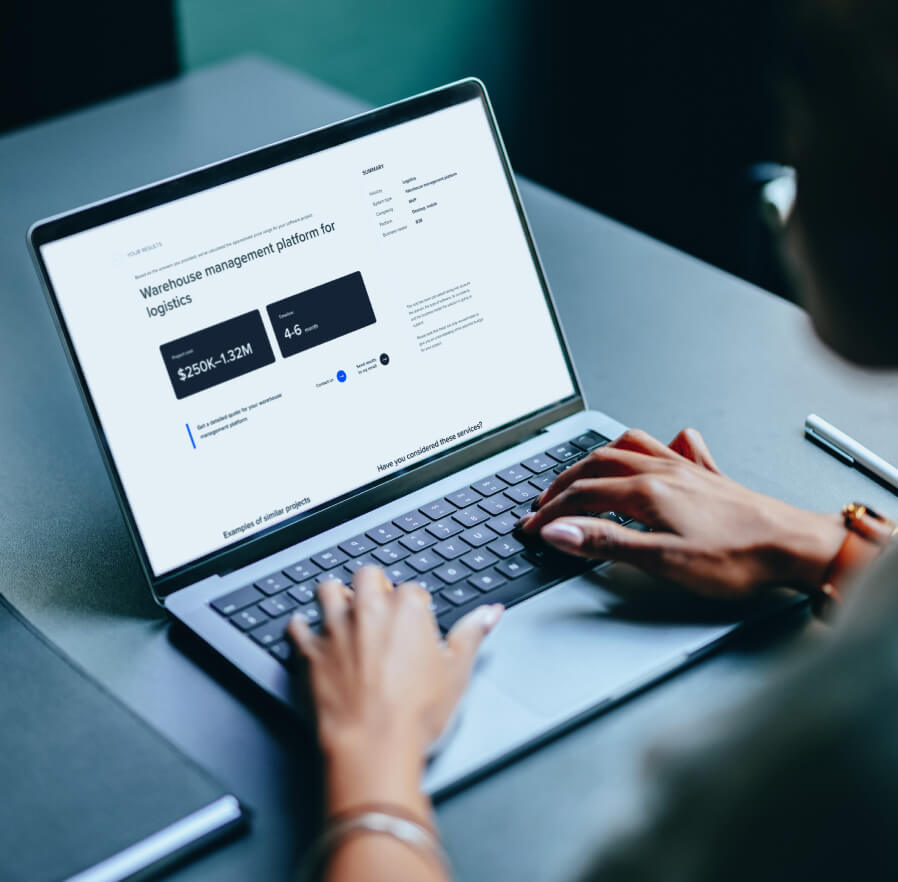 Finding the Right Pricing Model
Selecting the best-fit pricing model is a crucial decision. Here are some options to consider:
Fixed-Price Model: With this model, you pay a set price for your software product. It's ideal for well-defined projects with precise requirements.
Time and Material Model: This model charges customers based on the time and resources utilised to develop the software product. It works well for projects with evolving or uncertain requirements, providing flexibility for adjustments.
Dedicated Team Model: Suited for long-term projects, this model offers a dedicated team of experts who work exclusively on your software product for a fixed duration.
Milestone-Based Model: Under this approach, you divide the software development project into distinct milestones and are billed upon the completion of each milestone.
Hybrid Model: If none of the above models seems to fit your specific needs, you can create a customised pricing structure by combining two or more.
Expert Tip: To decide on the best pricing model for your software product, consider factors like project complexity, customer preferences, budget constraints, and your business goals.
Factors Impacting the Cost of Software Development
Several key factors impact the cost of software development. These include:
Project Complexity: Complex software products with intricate features and functionalities often require more development time and resources, affecting the overall cost.
Project Scope: Clearly defining the scope of your software product is essential, as additional features beyond the initial scope can lead to increased development costs.
Technology Stack: The choice of technologies and tools used in development can influence both cost and project timeline.
Development Timeframe: The duration of the development process plays a significant role in determining costs.
Team Composition: The size and expertise of your development team impact the overall price of the project.
Third-Party Integrations: Integrating third-party tools or services can introduce additional costs.
Testing and Quality Assurance: Ensuring thorough testing and QA processes are in place contributes to the overall cost.
Expert Tip: To optimise costs, conduct a thorough analysis of your project requirements, collaborate with your software vendor during the estimation process, and implement effective cost-tracking and project management systems.
Cutting Costs: Smart Business Move or High-Risk?
Reducing costs during software development might seem tempting, but it comes with inherent risks. Let's explore the pros and cons:
Pros:
Lower initial investment
Potential for cost savings
Cons:
Compromised quality that fails to meet customer expectations
An underfunded product that lacks the necessary features for future growth
A product that becomes difficult to maintain and update.
Expert Tip: Focus on cost optimisation through efficient development practices, resource allocation, and leveraging the right pricing model. Remember that investing in a high-quality software product today will lead to long-term success and customer satisfaction.
Three Budgeting Mistakes to Avoid
Insufficient Requirement Gathering: Inadequate understanding of customer needs and project scope can lead to inaccurate cost estimates when determining how to price a software product.
Ignoring Development Team Input: Excluding your development team from budgeting discussions can result in unrealistic timelines and cost projections.
Lack of Contingency Planning: Failing to account for unforeseen challenges can derail your budget and project timeline.
Striking the Perfect Balance Between Quality and Budgeting
Balancing cost-efficiency with product quality sets the stage for a thriving and profitable software product.
Do you want to get a better understanding of the budget required for your software product? Our team is here to guide you through the process and help you make the right decisions for your success.
Application development
We'll help you bring your most complex software vision to life with our leading full-cycle custom application development service. So you can focus on delivering an incredible user experience that sets you apart from the competition.
View service
Nearshore development
During the thirty years we've been in operation, we've gained the skills and experience needed to offer broad-ranging, market-leading software and consultancy services to clients all over the world.
View expertise

Explore our application development services