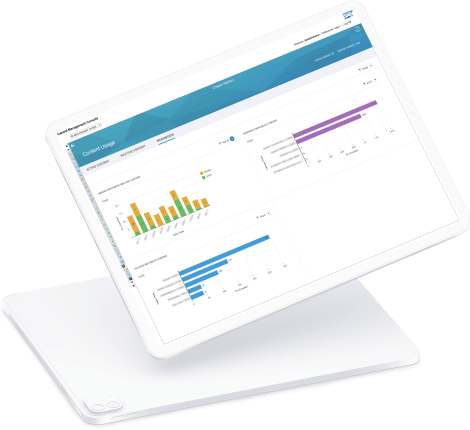 Seamless Migration of SAP BusinessObjects platform for a Global Metals Trading Enterprise
We helped the client seamlessly adopt the newest version of their BI tool with zero downtime during business hours.
Case Study
Read the entire case study
Compared to onshore outsourcing and hiring in-house, both nearshore and offshore software development services offer multiple benefits in terms of budget and efficiency. Where nearshore adds real value is in the geographical proximity of your extended team. Here are a few of the key benefits of the nearshore option:
Flexible scaling - the nearshore model offers companies the chance to scale development capacity on-demand to support an individual project or a growing development portfolio. The chosen outsourcing partner is responsible for selecting a team of software developers with the best-fit skills to tackle the specific project, allowing the client's core team to focus on delivering better BAU.
Access to a large and diverse talent pool - talent availability is a significant differentiator when comparing offshore vs nearshore software development services. When a company chooses a nearshore software partner, they're gaining access to a pool of, potentially, thousands of highly and diversely skilled specialists without relying on painstaking internal recruitment. The outsourcing partner puts together the optimal team to fit a client's project and then integrates this extended resource with the organisation's in-house team.
Cost efficiency - by opting for an outsourcing software development partner with a nearshore location, businesses can dramatically decrease their development spend since they don't have to take on the costs associated with in-house recruitment or the higher hourly rate that onshore commands. Furthermore, compared with offshore software development, having an extended team close at hand means that communication can be practically instantaneous, which also factors in reducing development costs.
Getting products to market faster - the nearshore engagement model vastly reduces the training time needed to get a team up to speed. This, in turn, reduces the overall software development lifecycle and ensures that a client can launch a quality product to market up to twice as fast.
Geographical proximity - unlike offshore development, which can be provided from the opposite side of the globe with considerable time differences, the nearshore approach to software outsourcing places an augmented IT team within the "arm's reach" of the client's offices. This means that the extended team of experts can be available for regular onsite visits, and there's better time synchronicity, which yields smoother communication, little to no cultural differences, collaboration and project delivery.
Unified cultural approach - because of their positioning close to a client's core team, nearshore developers can easily integrate with in-house resources. This means that they can adopt a client's culture while, at the same time, offering the kind of hands-on knowledge transfer process and behaviour-change coaching that offshore development teams can't necessarily provide.
Is offshore development better in certain situations?
Offshore development does offer many of the same benefits as the nearshore model. It gives clients access to a wide talent pool and offers flexible scaling and better efficiency than in-house development – with a significantly faster time-to-market.
Where it's less effective, however, is in the level of control it offers. Maintaining seamless communication and facilitating face-to-face meetings becomes a real challenge with an offshore team potentially located on the other side of the world. Where offshore outsourcing can offer the most value is in its cost savings. When you compare the cost of the offshore vs nearshore approach, the offshore model tends to be the cheapest outsourcing development option, and if budget is a client's core concern, it could provide a better solution.
Tips to achieve seamless collaboration with your nearshore software development team
1. Look for nearshore companies with a proven track record of success
Doing your research before engaging in cooperation with a nearshore development company will help you ensure your project is in safe hands. Verify the credentials of the nearshore company you consider partnering with, ensure they follow the essential regulations and compliance requirements, check if they have industry-standard accreditations. For example, the SOC 2 Type II audit provides a comprehensive assessment of the cybersecurity controls within a service organisation. Ask for relevant case studies to ensure they have the skills and experience to deliver your project and enough references from previous clients.
2. Outline the objectives and expectations for your outsourcing project from the start
Before you engage in cooperation with your software development team, it's essential that you clarify the objectives of your project and what you require from your nearshore partner. Your entire team needs to understand exactly what is expected of them. An experienced outsourcing partner should also provide you with their expectations concerning where the responsibility for specific software development tasks sits. Bring together all stakeholders, draw up a clear project scope including goals, timeline, and responsibilities, then make sure everyone is aligned.
3. Do not underestimate the importance of cultural alignment
Whatever your digital endeavour may be, bringing the right people on board is key to your success. This sounds obvious, but make sure you do not overlook cultural differences while searching for specific skills and specialities. Look for the nearshore software development team located close by so that they are available for onsite visits allowing you to transfer process and behaviour-change knowledge. Make sure they are ready and willing to understand and adopt your internal culture. Such a team will become a true extension of your in-house resource.
Conclusion
Whether you're looking to up-scale resource for a specific project or need to plug a skills gap to supplement your in-house team, outsourcing your software development provides a cost-effective solution with considerable time savings. When you choose the right nearshore development company to extend your internal team, you gain access to a large pool of multi-skilled professionals who can be integrated with your team and processes within a matter of days.
Offshore outsourcing offers many of the same benefits with excellent cost-saving potential, but you do lose a degree of control on account of the geographical and time zone difference, and staggered communication can become an obstacle to the development process.
If you're looking for a seamless collaborative model at a fraction of the cost of onshore or in-house development, the benefits of nearshore outsourcing make it an attractive choice.
Take a look at some of ELEKS' nearshore development success stories:
Looking for a cost-effective alternative to in-house development? Choose a trusted nearshore software development company. Choose ELEKS.