As car rental management software evolves, consumer expectations will follow. Your ability to stay relevant and competitive depends on whether you can keep up, and for rental car industry leaders, a few
technologies
are especially worth watching.
Artificial intelligence (AI), machine learning, and the Internet of Things (IoT) are redefining your field from the ground. Those who put them to use with car rental management software learn to forecast the business factors that power their profit margins. Those who don't sacrifice gains like better car rental rates, automation-driven operational efficiency, idle time optimisation and streamlined, centralised management practices.
Why does your car rental business need to adopt digital transformation?
Car rental businesses are long overdue for disruption. Here are just some of the ways new technology is stirring the tides of change:
Machine learning will revolutionise operational logistics
Rental businesses use AI for many reasons. Perhaps you want to start tracking how often you'll need to dispatch drivers to a particular spot. Maybe you're tired of getting caught off guard by forecasting methodologies that can't adapt to changing conditions. With machine learning tools, you gain the power to predict demand accurately and reposition your fleet with heightened efficiency.
AI-based logistics systems that use machine learning are designed to train themselves. Because they hunt for mathematically verifiable patterns, it's easy to discover performance indicators that you didn't even know you should be tracking. For instance, why stop at predicting ridership when you can anticipate breakdowns to improve maintenance schedules or identify high-fuel-consumption routes to optimise consumable usage?

Connectivity will shoulder your personnel management burdens
Overseeing a fleet is about more than just taking care of your vehicles. You've also got to cultivate streamlined communication with your operators, mechanics and customer service personnel. You need to forge and maintain a sustainable connection, and the IoT is the perfect tool for the task.
IoT-connected vehicles let you further your data acquisition power to make every aspect of fleet management more efficient.
While connected vehicles generate a massive amount of valuable data, you can automatically collect information on speed, traffic, and environmental factors and use it to improve fleet disposition and route planning. IoT-enabled fleets naturally complement AI and machine learning. Since these systems make it far easier to act on the massive volumes of information that you derive from mapping your drivers' daily journeys and business processes, you don't have to liberate yourself from one blind spot only to encounter another. As you take in more information, your systems can scale to fit.
Smart Fleets Further the Customer Experience
Operating a technologically superior fleet can dramatically improve your customer relationships. For instance, you can remotely monitor odometers, fuel consumption and other diagnostic indicators to anticipate maintenance calls before they inconvenience your users.
Suppose you want to minimise wait times for shared vehicles. IoT fleets that support virtual keys give the customer complete itinerary freedom. Whether you aim for increased dispatch efficiency or better-kept vehicles, you'll produce more satisfied customers and generate repeat business.
Want to stay on top of where the car rental industry is heading? Find out how ELEKS can help you drive your digital transformation forward.​
Data-Driven Digital Transformation of a Car Rental Business
View Case Study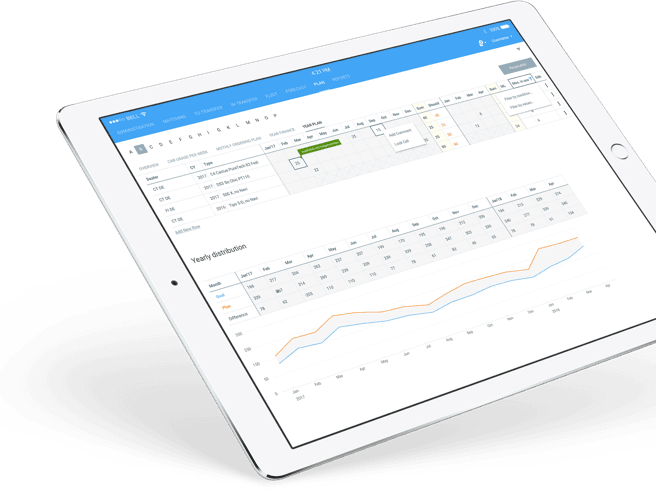 Explore our services
for Logistics